One of the biggest and best attractions in Branson, MO has been the Branson Dixie Stampede, which is "filled with friendly North and South competition, thrilling horse riding stunts, spectacular special effects, phenomenal musical productions plus a mouth-watering four-course dinner complete with a delicious dessert!" according to the Dixie Stampede Branson website. It's one of the few ways that you can squeeze in delicious food along with entertainment that the entire family will enjoy all at one time.
Many people that plan on experiencing the Dixie Stampede in Branson, MO often try to hunt down various Dixie Stampede coupons and discount tickets. Soon, though, they discover that Dixie Stampede discount tickets or coupons for Dixie stampede are hard to find! In order to save you the hassle and time, we've compiled a list of the best places to find coupons for Dixie Stampede in Branson, MO.
$10 Off Dixie Stampede Branson Tickets!
The Reserve Branson website has Dixie Stampede discount tickets available to purchase for as much as $10 off what Dixie Stampede charges! Dixie Stampede tickets normally sell on average for $55 (prices vary slightly on day of the week and time) but Reserve Branson offers them for as low as $45! This is the largest discount on Dixie Stampede Branson tickets that is offered anywhere. You can even cancel by a certain date to get a 100% refund. They have a fantastic "satisfaction guaranteed policy." These discount tickets may not last long, so we highly suggest grabbing this deal before it disappears!
You can purchase the $10 off discount Dixie Stampede Branson tickets at the link below:
http://www.reservebranson.com/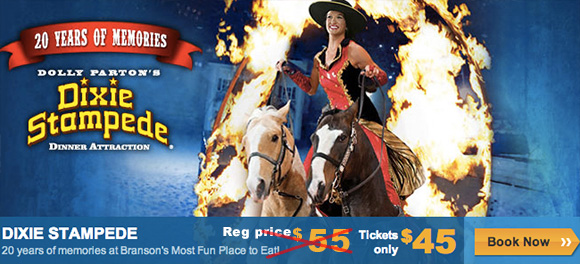 Branson Dixie Stampede Christmas
During November and December, Dixie Stampede offers an incredible Christmas show that is one of the best things to see and do in Branson during the Christmas season! For more info on the show, photos, and to purchase tickets click on the link below:
http://www.reservebranson.com/ds/dixie-stampede-christmas-show-branson
Dixie Stampede Branson Vacation Packages
The same website mentioned above also offers so great deals on Dixie Stampede vacation packages if you also need lodging. They have a lot of fantastic Branson lodging to choose from at the guaranteed lowest prices. Definitely click the link below if you need lodging and plan to see Dixie Stampede as well!
---
Dixie Stampede Coupons and Discount Tickets for Dixie Stampede Branson, MO
The official Dixie Stampede Branson Website
The best discount is typically the one posted above, but you can visit the official Dixie Stampede Branson website to view their current special offers and ways to get discount tickets. You can find that page directly at: http://branson.dixiestampede.com/specials.php
If you have 15 or more in your party, then visit their group information page for discount ticket information: http://branson.dixiestampede.com/group_information.php
Finally, you can try calling their box office to inquire about military discounts or other possible promotions they may be currently running: 417-336-3000
Best Read Guide
You can pick up a Best Read Guide just about anywhere in Branson when you arrive, but you can also download and print coupons from their website before you arrive. They have a Dixie Stampede Branson discount for $2 off each adult ticket available at: http://www.joplinglobeonline.com/branson_new/coupons.php
These are what we have found to be the best sources of Dixie Stampede coupons for Dixie Stampede Branson, MO. If you know of other discount tickets or coupons for Dixie Stampede in Branson, MO then please let us know using the comment form below! Our partner Pigeon Forge website also has a guide on how to find Dixie Stampede Pigeon Forge coupons while our Myrtle Beach website has info on Pirates Voyage coupons. Also, be sure to share these Dixie Stampede coupons on facebook and twitter using the buttons below!